Bao Zheng (999-1062), a household name in China, was an outstanding government official and statesman in the Northern Song Dynasty (960-1127). He was born of a scholar family in Luzhou, now renamed Hefei, in Anhui Province. At the age of 29, he passed the highest-level imperial examinations under the direct invigilation of the emperor and qualified himself as a Jinshi.
As laws and regulations of that time said that a Jinshi could be assigned a leading position, Bao Zheng was appointed magistrate, the head of Jianchang County. But as filial piety was regarded as a highly valued virtue, Bao resigned his position and went home to attend his old and weak parents for ten years. After his parents' death, he was reappointed magistrate of Tianchang County. That year, he was 40.
Bao Zheng proved to be a magistrate of justice, fearlessness and righteousness. His superior wit and talent profoundly impressed people across the nation, including Emperor Renzhong, who successively promoted Bao and assigned him to important offices in various parts of the country.
To most Chinese people, Bao Zheng is known for his strong sense of fair play, his determination to mete out justice without fear and favor and his ability to tell the truth from falsehood. He insisted that anyone, including close relations of the Emperor, deserves punishment if found guilty of wrong doings.
According to historical records, in the 30 odd years when he took office, more than 30 high officials, including some government ministers, were demoted or dismissed because Bao accused them of corruption, bribery, dereliction of duty, misprision, etc. He was such a firm and resolute man that he never gave up what he thought was right. He reported six times to the Emperor to impeach the high-ranked government official Zhang Yaozhuo, uncle of the high-ranked imperial concubine, 7 times to impeach Wang Kui, another official favored by the Emperor, and several times to impeach Prime Minister Song Yang.
What is amazing is that as an imperial censor, Bao Zheng always succeeded in convincing the Emperor without inviting misfortune. In history, many imperial censors came to bad ends. Sima Qian (145 B.C. or 135 B.C.), a great historian, thinker and litterate, was castrated for a few words for Emperor Hanwu. Wu Kui, Chen Xu, Du Shu, three imperial censors living in Bao's time, all fell off the political stage for their expostulations. Bao Zheng, however, headed off one danger after another and stayed on the stage until his life end. We can't help marveling at this great man's intellect and personality.
Bao Zheng's personality was closely related to his early life. Though his parents could afford to send Bao Zheng to school, their life was not so rich. His mother had to climb up the mountain to collect firewood just before she gave birth to him. Before Bao became county magistrate, he had lived among the low working class, which helped him understand their trouble and hardships. He hated corruption and strongly desired for justice and probity.
His personality was also attributed to a man named Liu Yun. Liu was a magistrate of Luzhou District when Bao was looking after his parents at home. He was not only an excellent poet and litterate but also a talented and fair-minded official abhorring all evils in the society. He was also a man respecting intellectuals and particularly appreciated Bao Zheng's abilities. As Liu and Bao got along well, Liu exerted great influence on Bao, who cherished loyalty to the throne and love for his country and the people.
Now there are many stories and operas about this extraordinary character in Chinese history. Bao Zheng is respectfully called Bao Gong. His stern black face, looked upon as a symbol of justice and integrity, is easily recognized by all Chinese opera fans, although this is more theatrical than real.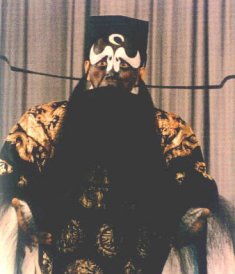 Lord Bao (Bao Gong) was a famous upright officer who lived during the Northern Song Dynasty (960 - 1127), one of the more magnificent periods of the Chinese civilization.
宋仁宗大放花灯, 与民同乐。 有女子柳金蝉随家人逛灯中途失散, 踽踽独行, 被无赖李保诱至家中, 强 奸逼死, 移尸颜查散门首卸祸。 地方不察, 逮颜查散于案。 包拯审问时, 颜查散极口呼冤。 包 拯以颜查散书生, 不类杀人者, 乃下阴曹, 令判官查生死簿。 簿上注明柳金蝉因看灯为颜查散奸毙。 包拯终不信, 私访至阴山, 得柳 金蝉冤魂而问之, 始知凶手为李保, 而 判官为李保之母舅, 徇私舞弊,擅 改生死簿。包 拯大怒,立 令判官改正。判官 不认,竞至与阎罗相骂,包拯怒铡之。回至阳 世, 释颜查 散,铡李保 了案。
[二黄导板]
扶大宋锦华夷赤心肝胆,
[接唱回龙]
为黎民无一日心不愁烦。
[接唱原板]
都只为那柳金蝉屈死可惨,
错判了颜查散年幼儿男。
我且到望乡台亲自查看,
又只见小鬼卒大鬼判,
押定了屈死的亡魂项戴铁链,
悲惨惨惨悲悲,
阴风绕吹得我透骨寒。
正南方一阵明一阵黑暗,
望开封那就是自己的家园。
牙床上睡定了无私铁面,
王朝马汉睡卧在两边。
可怜他初为官定远小县,
可怜他断乌盆又被人参;
可怜他铡驸马险些遭难,
可怜他为查散下阴曹游过五殿哪得安然。
一阵阵阴风起甚是悲惨,
那就是受罪处名叫阴山。
柳金蝉一定在那厢受难,
包拯今要入虎穴龙潭。
叫王朝和马汉忙催前趱,
[散板]
山谷内因何有这一鬼孤单。